End and start the year running with HGR. We are going to have 4 LIVE events to close out 2020 and to welcome 2021. Sign up for HGR Text notifications to get notified when a LIVE broadcast starts if you haven't already.
Here are the events we have programmed so far and on what stations they will be broadcasted on.
Acts 2:38 – HGR 1
Mid Winter Summit – HGR 2
Accelerate – HGR 3
Avalanche – HGr 4
Sign up for FREE HGR Text Notifications if you haven't done so already to get notified when a LIVE event starts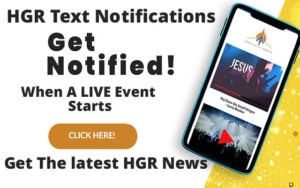 We want to thank everyone that has signed up to HGR VIP. Your $10 dollars a month or $100 dollars a year membership allows us to help cover the costs to keep HGR running every month. Please help us sign up more people to the paid VIP subscription by letting your friends and loved ones know about it. We are currently trying to raise the funds to add several more languages to the channel lineup. We invite you to partner with us by signing up for paid VIP membership if you haven't already.